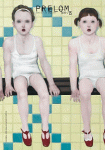 Edition in English
grupa autora(autor)
Izdavač: Prelom Kolektiv
The journal Prelom No. 8, edition in English has following sections: Against the Post-Socialist Reason (texts in this section deal with revolutionary historical effects of the project of Socialist Federal Republic of Yugoslavia and reflect revolution as the political form, (im)possible within the dominant neo-liberal post-Socialist rationality), Ideology and its Diss(id)ents, Is it Possible to be a Marxist in Philosophy?
(this section contains essays from the conference of the same name in Belgrade in 2004 and also contains two texts by Alain Badiou and an interview with him), Art is in Danger, 'Institutional Critique' and the Institution of Critique (this section presents debates on some crucial issues of art and 'cultural production', as well as on contemporary art practices in their relations with the 'cultural' institutions, including essays by Simon Sheikh, Hito Steyerl and an interview with Gerald Raunig), Who is 'Goran Djordjevic', From Un-Aesthetization to Anaesthetization and Decisive Encounters (this section deals with film matter, film form and film history, and includes the conversation with Wim Wenders, by Dragana Kitanovic).
The journal Prelom was founded in 2001 as a publication of the Belgrade Center for Contemporary Art. In the past five years (seven part in five volumes) Prelom has become a space for the critique of political constellations within social theory and political philosophy, of contemporary art and film in today's post-Yugoslav context. It is a collective effort to problematize, theorize and fight against various, heterogenous andparadoxical forms of contemporary neoliberal capitalism. In the summer of 2004 Prelom lost its former institutional support and the editorial board founded an independent organization – Prelom kolektiv, establishing itself as publisher and laying the foundations for integrating and expanding other activities beyond just the production of the Prelom journal (exhibitions, conferences, discussions, etc.).
---
2006; Broširani povez; latinica; 354 str.;